Find Out What People Are Saying About Steel Tech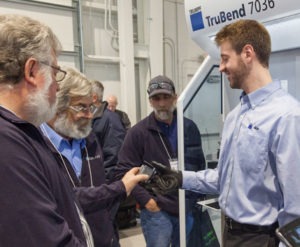 When you're trying to stay ahead of the technology trends in your industry and you're searching for the best, most informational event to attend where you can gain that knowledge, what's the first thing you look for? What previous attendees have to say, of course!
So if you're thinking of attending, read on for honest feedback from your industry peers. And be sure to learn more about Steel Tech Expo, and RSVP for this FREE event, by clicking here.
What Past Attendees Have to Say About Steel Tech Expo
Equipment demo's and informative presenters, coupled with networking among similar companies.
OEM experts on site.
The personnel who were manning the machines were knowledgeable, easy to talk to,  and eager to work through my questions and explain the technology.
It was convenient because you could see a lot of different types of equipment in one area. 
Equipment displays and demonstrations were well planned out.
Easy access to staff to answer questions about the equipment on display.
Seminars were very informative and applicable.
Location was close enough for a one day trip if needed.
Equipment powered up and was fully functional.
Latest technology machinery
The variety of equipment on display and the engagement of the company representatives were fantastic.
Many of the vendors related to our specific operations and needs.
Networking and discussions with the factory reps were valuable.
The number of vendors at the show was impressive.
The food was awesome!
The ability to see the machines on display actually in action was very beneficial.
Personal customer service, very friendly, excellent all around!
The giveaways were awesome – shirt, hat, and tickets to the outdoor show.
I was able to get a lot of information on different machines in a short amount of time.
There was a great variety of different machines already there to perform various tasks
Still not sure, or maybe you have some additional questions that weren't answered? Contact us today to have your questions answered and find out more about why you should attend. And we look forward to seeing you at Steel Tech Expo!