Waterjet Cutting Machine Distributors
At Southern States Machinery, we distribute a vast selection of new and used waterjet cutters for sale. By adding waterjet cutting equipment to your shop's inventory, you can expand your design capabilities and your credibility with customers.
But not all waterjet cutting machines are created equal. To make sure you're getting the best of the best, you need to consider the quality and performance of the machinery before you make it a part of your shop.
We offer lines that combine precision system components, innovative software, and advanced pump technology to deliver optimal output and results. They are fast, accurate, and enable shops to cut a wide range of materials, such as glass, metal, and composites, in a variety of thicknesses.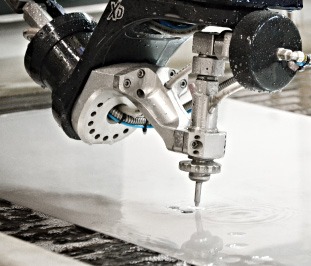 Waterjet Cutting Systems
Our available lines of waterjets offer pinpoint accuracy and exceptional tolerances for sheet and tube cutting jobs. These machines come in numerous sizes to accommodate a range of job requirements and offer a wide variety of options and accessories. With waterjet cutting systems your shop will be able to run high-capacity production jobs or single prototypes with ease.
Used Waterjet Cutting Systems
In addition to new equipment, we also have an inventory of used waterjet cutters for sale. Many of the machines in our pre-owned inventory have been refurbished and inspected by our technicians to ensure they meet the highest level of quality and performance. All of the used waterjets we have for sale offer a great value when compared to buying a brand new machine. View all of our used waterjets for sale here.
Waterjet System Repair & Service
Of course, we do more than just sell waterjet cutting machines. Our team of service technicians offers high quality maintenance and repairs for your equipment too. You can count on us to keep your shop productive! 
Better yet, contact us today to learn more about our waterjet cutting systems for sale and the other fabrication services we offer.