Deburring Machine Solutions
You have replaced your blades, checked your clearances, and calibrated your machine with precision. You've loaded your sheet metal onto the table of your 10' shearing bed, accurately squaring your arm, and finally make your cut–a perfect finished part, right?
Or maybe you have recently replaced the cutting tips on your plasma or laser cutting system. You have checked all of your gas levels, programmed the software, tested for errors, and input the exact cutting speed to handle your sheet metal thickness. You finally run the program and another perfect part, right?
Well, we can all dream! But the harsh reality is that both mechanical edge burrs and thermal slag and dross burrs are an inevitable part of any cutting manufacturing process and present a necessary and critical process in your fabrication operation— a deburring system.
How do you determine the RIGHT Deburring Machine Solutions for the Job?
Making sure that you have the right system in place for your specific application requires complete understanding and careful consideration of a number of factors such as part size, profile, material, part thickness, and finish quality to name a few.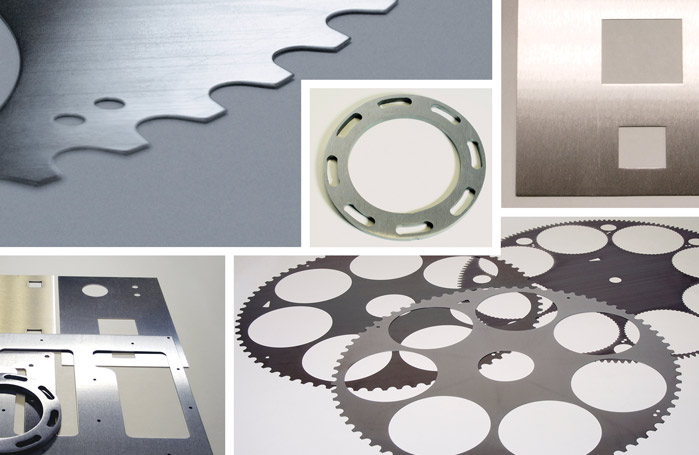 At Southern States Machinery, thanks to decades of experience working with a wide variety of manufacturers and fabricators, we know which deburring technology and which deburring machine solution is best for just about any application, and this is one reason we've become a leader in deburring machine sales.
The right deburring equipment can eliminate time-consuming hand grinding of parts, it can add finishes to the sheet, tube, and other metal stock, and it can make sure parts fit up quickly and perfectly during welding or final assembly. When taken together, these factors mean higher quality throughput and more efficient workflows that will save your business time and money.
Southern States Machinery offers several deburring machine solutions, to name a few:
Arku
Midwest Automation
AM Machinery
Read on for more information on some of the available deburring technology that we offer and be sure to contact our experienced team with questions.
FINISHLINE
Regardless of how large or demanding your metalworking projects are, you need the freedom to choose a machine that is right for you. That is where FINISHLINE, the latest all-in-one finishing, and deburring solution hits it out of the park.
Flexibility, precision, and productivity inspired the design of FINISHLINE; and whether you are deburring, edge-rounding, removing slag, burrs, or oxide, their industrial metal sanding machines meet the needs of a variety of fabricators.
FINISHLINE machines come in a variety of available widths, from 25 to 63 inches, and with 1 to 6 working units. Additional configurations of heads, brushes, belts and feed speeds give you and your business hundreds of custom solutions.
Contact us today to learn more, schedule a demo, or have us run your sample parts to see if this machine is right for you.
ARKU
Manufacturing needs to be flexible and so should your equipment. Regardless of how demanding deburring requirements might get, ARKU has got you covered.
The machines combine maximum precision and speed with easy operation and high efficiency. This is the result of technical highlights such as vibration-free movement, consumable quick change, automatic calibration, touchscreen HMI, tool storage, etc. All of these state-of-the-art functions make ARKU the top choice for your deburring, while ultimately saving your company time and money.
Whether aluminum, steel, titanium, or more, ARKU's lineup of deburring machines rapidly and reliably processes both sides of the materials. Offering double-sided solutions allow for increased processing efficiency. All while encompassing processes such as; deslagging, edge rounding, oxide removal, and surface finishing.
One of the highly efficient machines of the EdgBreaker® family is the 4000. The EdgeBreaker® 4000 is ideal for plasma and oxyfuel cut parts and can be seen in the video above.
Thanks to the precision, quality, and flexibility of their machines, the choice is simple. The comprehensive lineup of ARKU deburring machines allows for optimal product quality and process reliability that will put your business a step ahead of the competition.
Midwest Automation
Midwest Automation's line includes both flat and cylindrical deburring, finishing, edge rounding, and polishing machines. The versatility to process a variety of differently shaped parts and achieve different finish qualities will expand your shop's capabilities dramatically.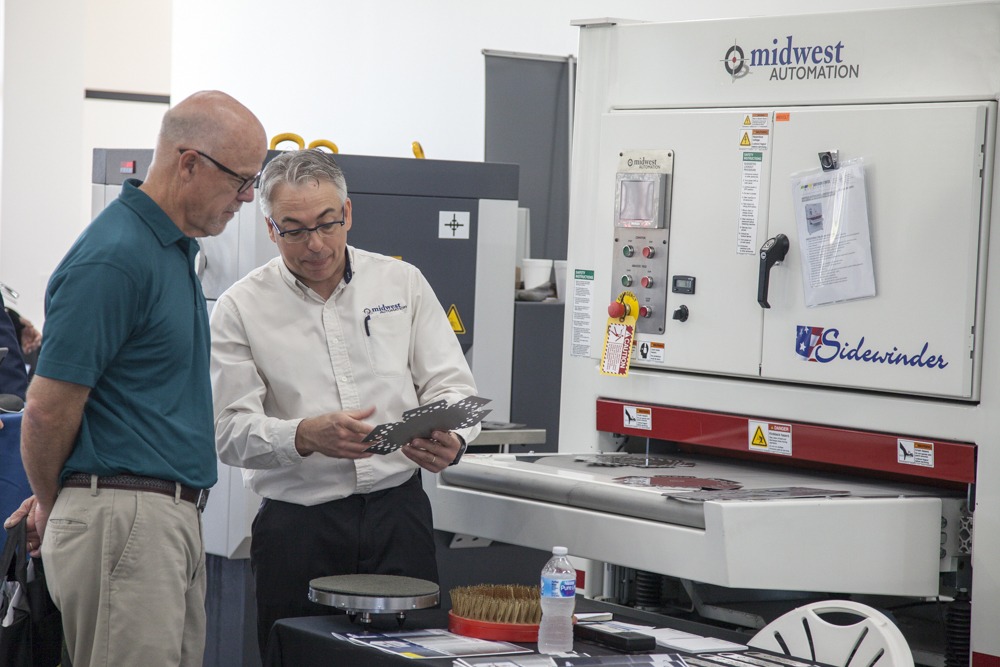 One of Midwest Automation's hallmark machines the unique Mini 9 is a compact precision finishing system that can be used in a variety of applications and may be the perfect solution for your small part processing. While their larger more complete machine the Sidewinder is packed with advanced features and benefits that can meet the demands of larger shops and operations.
The Sidewinder gives operators the power of multi-directional deburring with the use of a horizontally mounted oscillating disc that allows every edge, slot, and hole to be deburred. In addition, by utilizing a multitude of head options operators and companies are equipped with even more versatility and functionality to meet customers' demands.
While Midwest Automation's part processing advantages are undeniable, their machines also offer wet dust collectors that will help keep your production line clean and safe
Fladder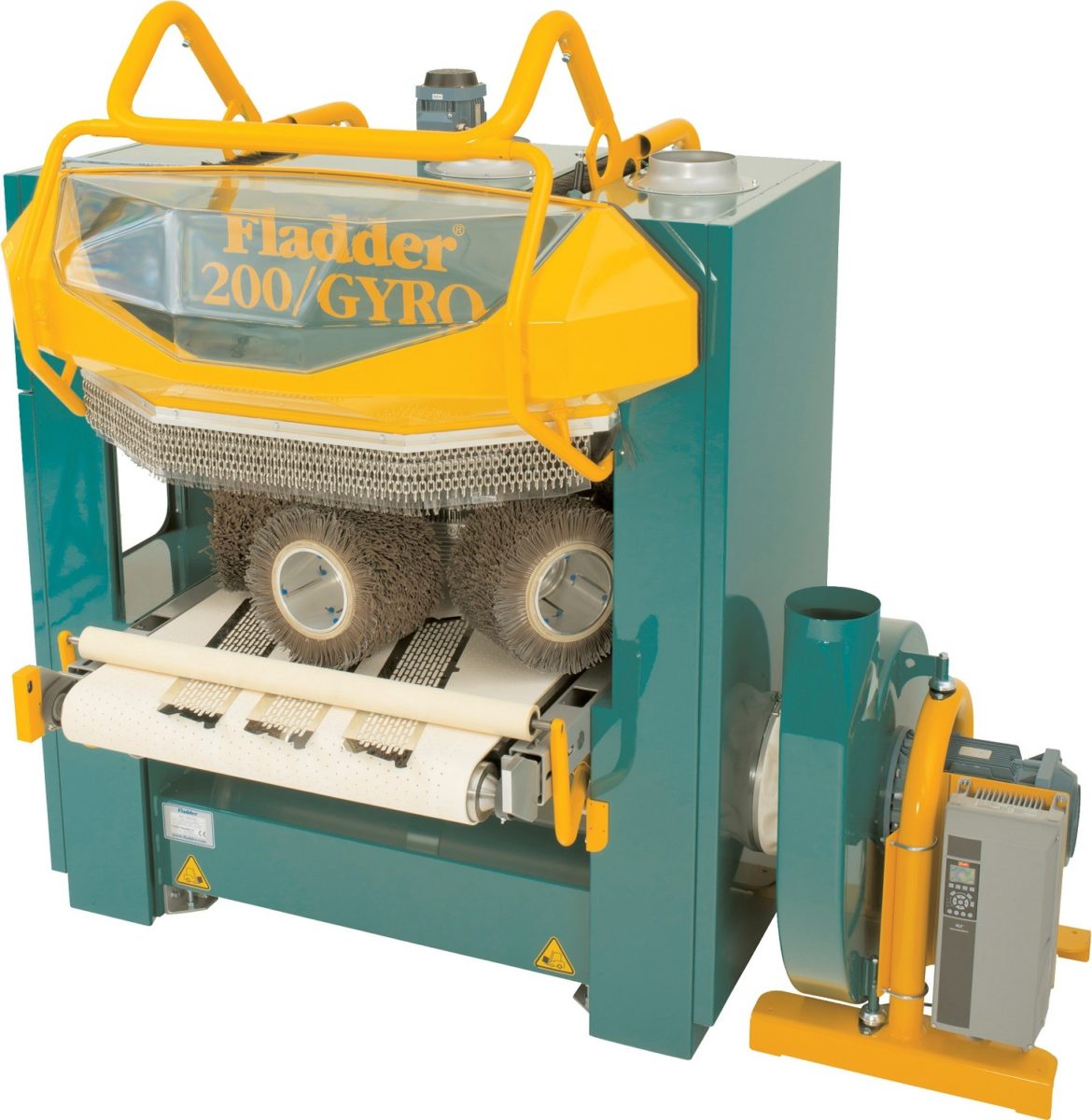 When your shop demands a deburring system that is non-aggressive and flexible–think Fladder. Fladder deburring machines are unique in that they can deburr and polish thin sheet metal, thick sheet metal, and even formed or machined parts. Their machines have the capability to finish parts as small as a .50 cent piece and have very few components that when combined can be easily tailored to suit a variety of applications.
If your production process requires deburring after forming, welding, or machining, Fladder may be a game-changer for your 3D or 2D part processing.
AM Machinery
Am Machinery and their long belt brushing and grinding Stroke Sander machines are an ideal choice for panels, profiles, and small housings that require secondary processing and deburring.
Their basic configurations allow operators to process full lengths of sheet metal on flat machine tables, while more advanced setups with variable speed controls and power height adjustments allow the part to be processed on 5 axes. For those looking to deburr small to large parts AM Machinery may be the solution for you
Rasamat/Turnamat
Rasamat and Turnamat machines are the perfect solutions for deburring parts cut from a tube, channel, or other open profile stock. With Rasamat machines, even complex profiles can be deburred inside and out in a single work step while leaving the outer coating of the workpiece untouched. If your business requires processing of aluminum extrusion Rasamat has many advantages over other circular brush systems. In addition, the Turnamat machine is an economical solution for deburring straight, bent, and even complex asymmetrical pieces.
Ready to learn more?
Instead of viewing deburring as the necessary evil that many do, we at Southern States Machinery believe that it can be a true value-added service. By using the correct machine for the job you can exponentially grow your business and can set yourself apart from your competition.
If you're interested in learning more about the wide variety of deburring machine solutions, leveling parts, and finishing machines that can help your business increase quality and efficiency, contact us today. Our experienced team can help determine the best solution for your unique production application. We look forward to hearing from you soon!