Equipment Maintenance
When your business relies on fabrication equipment day in and day out, downtime can be costly. That's why we are pleased to offer factory-certified service and repairs on a wide array of machinery. From simple maintenance to complex troubleshooting and applications engineering, our technicians are "at your service" to help keep your operation running smoothly.
Pictured above is our talented service team, John, Bob, Michael, Chris, Carl and Bill. No matter what kind of machinery your business relies on, and no matter whether you purchased your equipment from us or from someone else, they're here to support you with top-notch, expert service.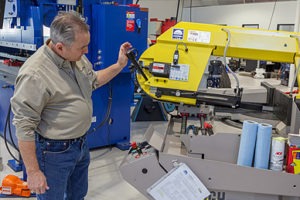 We service a variety of types of metal fabrication equipment, and with factory-trained technicians on staff you can be sure we'll keep your equipment in good working order. Even better, thanks to our close relationship with leading machine tool manufactruers, we have access to highly-trained manufacturer specialists who can make sure your critical machinery runs consistently and perfectly day in and day out.
Common machinery our team has experience repairing include:
Flatsheet laser cutting equipment
Plasma cutting tables
Shears
And more
Our team can assist with a wide array of services including:
Emergency service
Machine repair
Equipment calibration
Machine installation & commissioning
Machine decommissioning & removal
Job-specific programming of CNC machinery
Software updates
Preventative maintenance
Scheduled maintenance packages
And more
Thanks to our service and repair team, you can rest assured the machine tools that keep your business working effectively will maintained in top working order. Contact us today to request a quote on service and maintenance for your critical equipment. We look forward to hearing from you!