Mid Atlantic Machinery Automation Distributor
Robotic Automation solutions
Mid Atlantic Machinery Automation is here to help you harness the next generation of robotic automation solutions to expand capabilities, increase business efficiencies and reduce costs.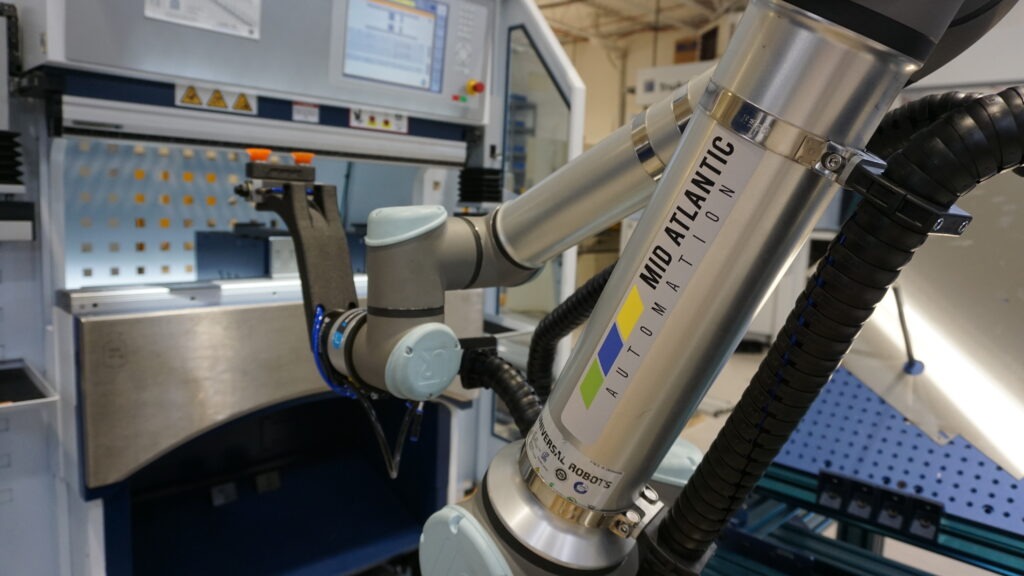 Mid Atlantic Machinery Automation develops and distributes high-quality, high-performing robotic operator packages and robotic press brake automation solutions that can easily and affordably integrate nearly all manufacturing processes, expand production and grow the bottom line in any operation – from small job shops to large-scale OEMs.
Our team of robotic automation experts works closely with you to determine the best robotic automation strategy and solutions for you, whether it be automated bending solutions with universal robots or robotic press brake bending for small batch production.
Mid Atlantic Machinery Automation has the expertise, experience, and equipment to determine how automation can best be utilized in your operation.
We are not just a machine tool distribution company or a robotics distribution company – we are a robotic automation solutions company.
Benefits to Mid Atlantic Machinery Automation
Completing the Tasks You Need
Mid Atlantic Machinery Automation's robotic automation solutions can operate many different machines through an easily-integrated, standardized interface. Once installed, the interface can control and manage a wide variety of machines in your shop, including:
Stamping presses
CNC machines
Sanders/grinders
Welding equipment
Quality inspection machines
PEM insertion machines
Once attached to the interface in your facility, these machines can operate effectively and efficiently, saving you time and money by completing an array of tasks, including:
Machine tending
Material loading & unloading
Forming
Quality inspection
Material Handling
Bending
Deburring & finishing
Vision & quality inspection
Welding & cutting
Certified Systems Integrator
Providing the Integration You Want
For our robotics automation solutions, we partner with Universal Robots, the industry leader in collaborative robots, as a certified systems integrator. Collaborative robots, or cobots, can sense pressure and will stop if they come into contact with something making them safer than industrial robots. They don't require extensive guarding as a result and take up a smaller footprint. Our robotics solutions offer many benefits such as collaborative robots for sheet metal bending and high-precision robotic bending for metal parts.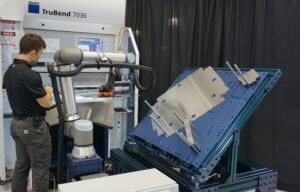 Our robotics automation equipment also incorporates Robotiq Insights – an online production monitoring system – to minimize downtime, track throughput, and optimize your return on investment.
Mid Atlantic Machinery Automation offers and supplies high-quality, high-performing robotics automation solutions such as CNC press Brakes with robotic bending arms to a variety of industries from job shops to OEMs.
Collaborative Robot Packages for Metal Fabricators
The Universal Robot press brake operator package, our most popular integration, combines the flexible and modular abilities of collaborative robotics to several fixed machine tools commonly found in fabrication shops worldwide.
Whether you are looking to integrate our UR10E Press Brake Operator Package, universal robots for press brake bending, or you need a custom robotics solution, you can expect a host of unique features:
Patent pending gripper technology for safe and secure handling and manipulating parts
Rapid programming to increase productivity from part to part
Heavy-duty modular cart for flexible integration to multiple machines in your shop
Redeploy-able from machine to machine
Easy operation to maximize efficiency
Safety scanner
Installation & onsite training
Additional Fabricators Cobot Package Options:
Some fabricators need the ease and repeatability of a straightforward "pick and place" application or have a pre-existing use for gripper integration. Our engineering team is happy to implement this type of automation for your shop.
Pick and Place Package includes:
UR10e Robot
Pendant Armor
Screen Protector
Heavy-Duty Robot Cart
Remote Start-Up Assistance
Vacuum Grippers/Pneumatics Package includes:
Robotiq AirPick
MAM Modular Rotary Small
MAM Modular VAC Gripper
Air/Filter Regulator
Hose Lines, Mac Valve, Pneumatic fittings, Air pressure switch
Delivering the Results You Expect
Using Mid Atlantic Machinery Automation can make your operation more efficient, more effective, more flexible, more responsive, and most important, more profitable.
Our flexible robotic bending systems and robotics automation solutions do that for you by:
Increasing employee satisfaction, engagement, and productivity
Decreasing capital expenditures
Eliminating inefficiencies
Improving performance
Enhancing safety
Increasing machine throughput
Reducing labor costs
Improving product quality
Minimizing downtime
Optimizing ROI

Taking Next Steps
Mid Atlantic Automation's team of automation experts can help determine the processes you want to automate and help select the type of equipment your company needs. Our team can help you identify the problems you are trying to solve and help make the business case for automation.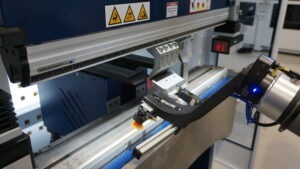 The next step is to ensure you have the right partner to guide your automation journey. It's not just about deciding to automate – it's deciding who will be the best partner for you.

Your Ideal Robotics Automation Partner
Mid Atlantic Machinery Automation is your ideal robotics automation solutions partner. We have the experience, the expertise, and the equipment to save you time and money.
Mid Atlantic Machinery Automation offers:
Dedicated engineers to help you automate your shop and stay up to date on the latest technological advancements
Responsive service and support
A growing customer base across the United States and around the world
Years of experience in the machine tool industry
A unique market position to help fabricators in the sheet metal and structural markets
Mid Atlantic Machinery Automation is your ideal robotics automation solutions partner.
To learn more about Mid Atlantic Machinery being a Robotic Automation Equipment Distributor, get in touch with us today!