TRUMPF Enhanced Speed & Performance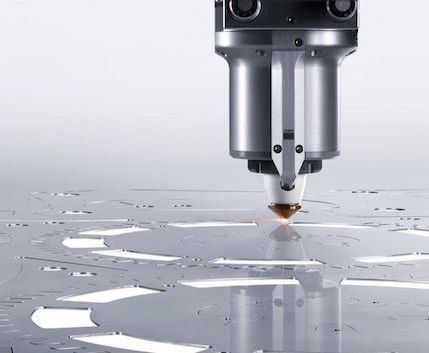 As the leader in TRUMPF laser cutting sales and service for the southern East Coast, we understand how performance and speed can impact your bottom line. The faster you cut, and the less waste you have due to low-quality cuts, the more profitable your business can be.
With this in mind, the engineers at TRUMPF have released a variety of improvements that can be added to both new laser cutting systems and legacy 5000-series lasers. Keep reading to learn about three important ways TRUMPF is helping fabricators increase efficiency and overall cutting performance!
New Cutting Packages
The new Performance Package uses fusion cutting technology to drastically increase throughput on thin cuts when using Nitrogen gas. Thanks to newly designed nozzles and new machine processes, TRUMPF has been able to increase productivity up to 27% during factory testing. In addition, TRUMPF's fusion cutting heads allow for improved piercings, less burr formation, and discoloration, plus a smoother appearance of the cut edge.
With TRUMPF's new High-Speed Cutting Package, fabricators can gain huge increases in cutting speed and production. However, in addition to almost doubling cutting speed, this new package decreases gas usage by up to 80%.  In fact, testing has shown that TRUMPF's 5030 Fiber Laser with this new technology can achieve speeds comparable to a 10kw laser. That's a major increase in speed and efficiency!
ECO Nozzle
The new ECO Nozzle from TRUMPF is a big advancement in the design of the laser head itself. For metal cutting shops that use nitrogen assist gas, this new nozzle technology allows higher cutting speeds but with much less assist gas usage. In fact, the ECO Nozzle can match the speed of the High-Speed Cutting Package described above, while using almost 70% less gas.
Bright Line Fiber Technology
Last but not certainly not least, TRUMPF's Bright Line fiber laser cutting system features a number of dramatic advances like increased maximum sheet thickness, higher quality piercing and higher feed rates on complex parts. These improvements mean faster cutting, less waste, and greater profitability for your business. Once you see the speed and quality of the Bright Line fiber laser cutting system first hand, you'll agree that this is a major advancement in precision metal fabrication technology.
If you're interested in learning more about the latest in laser cutting technology, contact us today. We look forward to helping you determine the best system for your business' needs.
And with years of experience with laser cutting sales and service, along with access to the full line of innovative TRUMPF laser cutting systems, our team is always here to help!