Prodevco Machines for Sale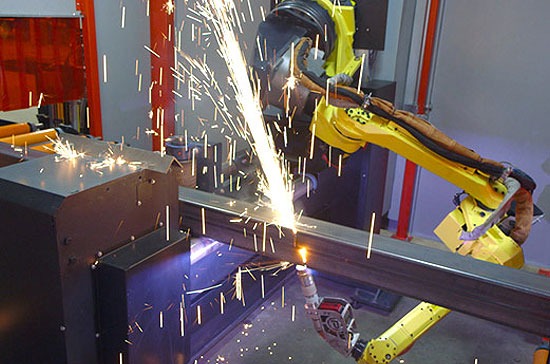 Robotic Plasma Cutting  Systems

Southern States is honored to be a Prodevco robotic solutions distributor. Started in 2000 and aimed at providing custom robotic solutions to the structural steel market, Prodevco has quickly become an industry standard by bringing robotic plasma cutting solutions to businesses in the demanding steel industry.
Prodevco systems provide businesses with a variety of advanced features including precise 3D computer vision, high definition plasma cutting, and powerful software solutions.  These features when combined help large OEM's and small fabricators alike boost productivity and maximize their bottom lines. Southern States is proud to be a Prodevco cnc plasma cutters distributor. 
PCR31
The Prodevco PCR31 is a robust and easy to use machine that automates cutting operations found in structural steel processes.  Using the industry-recognized Hypertherm plasma system, Prodevco machines can generate dramatic time-savings and cost-savings while providing precision cuts in a variety of material types.  
Some of PCR31's advanced features include:
Non-contact measuring systems
Load and unload while the machine is working
Several size configurations to accommodate your production needs and footprint constraints.
Process plate up to 60-inches wide, with a bevelling capability
Automatically adjust cutting trajectories to match part
Beyond the advanced features of Prodevco plasma cutting systems, the incredible versatility is what sets their product apart from the rest.  Their all-in-one system can help businesses streamline production, maximize uptime, and drastically reduce fabrication time, manpower and material use. This unmatched versatility allows businesses to achieve their ultimate goal of lower manufacturing costs without sacrificing speed, accuracy, and quality.
PCR42
The PCR42 advanced robotic plasma cutting system combines the power of plasma cutting with articulating robotic arm technology making it the first of its kind to process standard steel profiles, pipes and round tubes all with the same equipment. This innovative cutting system gives operators the ability to handle a variety of profiles, including round tubes from 4" to 26" and cut on all four faces of H-beams, channels, angles, HSS, and plates.
This robotic plasma cutting system, once programmed, can:
Cut copes
Cut notches
Cut holes
Weld preps
Splits beams
Scribe
Part marks
Prodevco is an innovative machine tool for businesses in the structural steel market and demonstrates a strong commitment to research, development, and production of the latest innovative breakthroughs for the steel industry. Read on to see a video of Prodevco solutions in action. For a quote on Prodevco equipment for your business, contact us today. We look forward to helping you!
Video: Prodevco Plasma Coping Robot
Video: Prodevco Robotic Plasma Steel Cutting Table