FlexCNC Vertical Machining Center
Turning Fabricators Into Machinists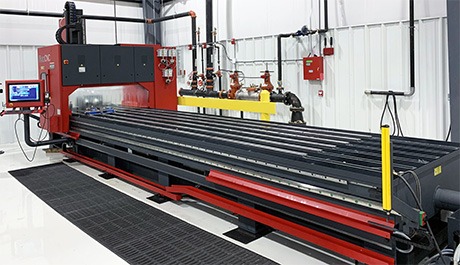 Built with fabricators in mind, FlexCNC is one of the most versatile and FLEX-ible machines on the market.  FlexCNC drilling machines are the perfect choice for drilling, milling, tapping and performing other processes on large parts that other machines simply don't have the capacity to handle.  FlexCNC is available with a range of options and accessories in both gantry and column models. Thanks to bed sizes up to 80′ and great value when compared to other brands, FlexCNC delivers a great deal of bang for your manufacturing buck.
Most importantly, FlexCNC equipment is designed to maximize production time.  Boasting a large, custom-sized bed lined with open-faced t-slots, you'll have plenty of bed space and be able to utilize multiple fixturing options that fit your job's specific needs.  A favorite for a number of customers, "Pendulum Mode", will give you the capability to reduce operator error, cut lead times, and maximize your spindle uptime.
FlexCNC machines are available in a variety of sizes and models.  For a customized, dynamic, long bed VMC that's user-friendly and cost-efficient, look no further than FlexCNC. Contact us today to learn more about FlexCNC and request a quote.
VIDEO: FlexCNC – Do More
VIDEO: Milling with FlexCNC
VIDEO: Pendulum Mode On The FlexCNC