CIDAN Machinery Distributor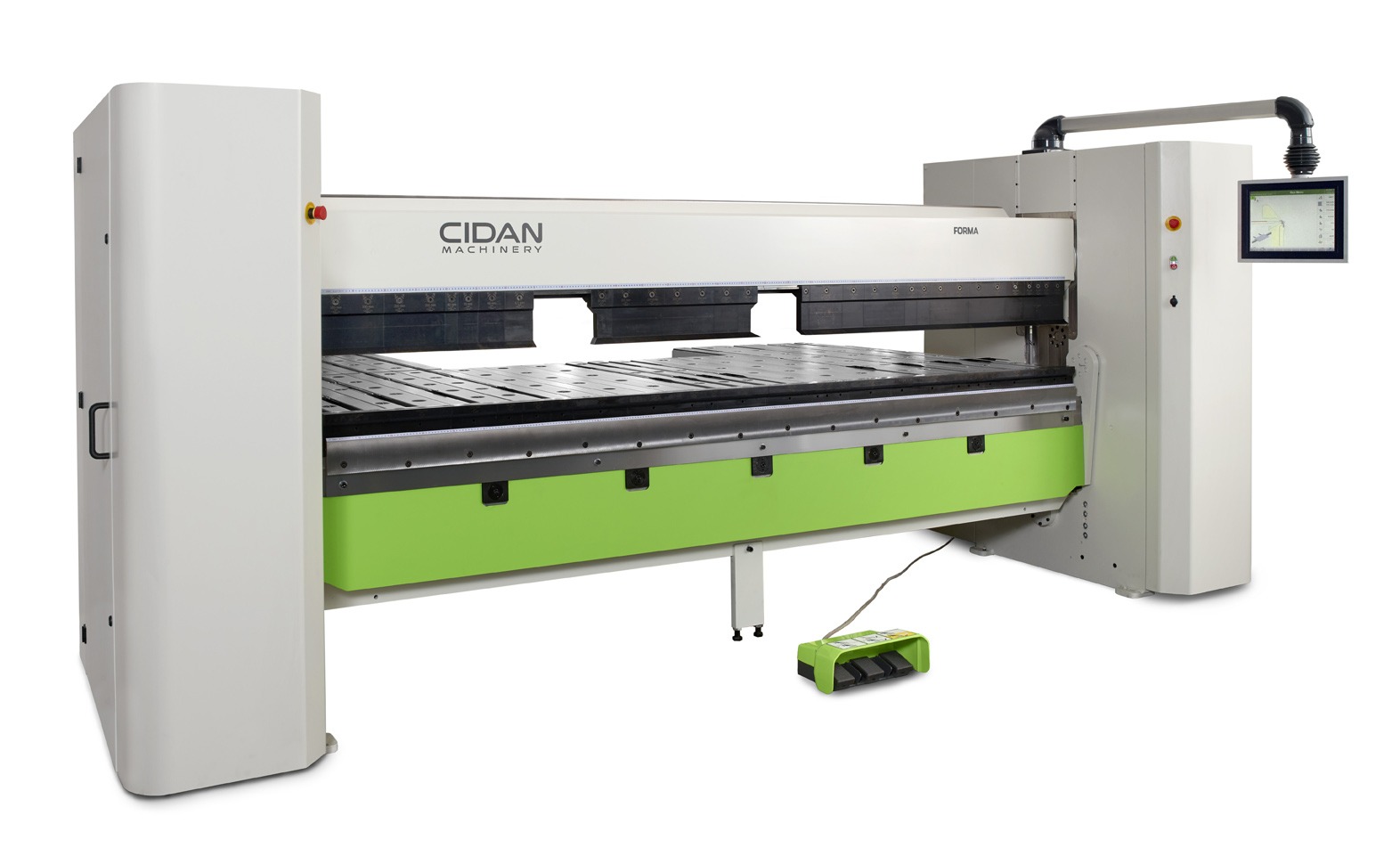 Shears, Folding Machines & Cut-to-Length Systems
Southern States Machinery has a wide selection of CIDAN models for sale and is a proud CIDAN machinery distributor. CIDAN has been manufacturing sheet metal fabrication equipment since 1907, and they know a thing or two about innovating when it comes to thin sheet metal folding. From their unique cut-to-length lines to their proprietary folding machine that allows a single operator to easily form complex, large sections of thin metal, CIDAN equipment is precise, flexible and indispensable to businesses worldwide.
Read on to see videos of CIDAN equipment in action, and to learn more about their equipment. If you have questions or would like a quote, contact us today.
Cut To Length Systems
Cidan Machinery manufactures cut to length machines for lightweight sheet metal applications that are so easy to use that programming and operation can be performed by non-skilled operators.
Cidan's unique "all in one" unit has no limit on working length. It includes standard features such as an innovative straightening unit, a sheet guide for in-feed, and guillotine shear with hold down beam and double edged blades. In addition the LineLink control system and foot pedal for remote feeding comes standard with all Cidan cut to length systems.
Benefits of Cidan cut to length systems include:
Perfect for a variety of lightweight sheet metal fabrication needs
Reduce waste and scrap by cutting only what you need for each production line
Save money on raw materials by using bulk rolls as opposed to sheets
Precision control and user friendly operation mean less error and waste
Save time by minimizing the transfer of sheet stock within your facility
Contact us today to learn more about Cidan cut to length lines and request a quote. We look forward to hearing from you!
Folding Machines
Cidan Machinery makes unique metal folding and metal bending machines with a focus on lightweight sheet metal applications. Unlike press brakes which are best for forming smaller, hand-held parts, Cidan's unique backguage table makes their machines best for folding larger, more complex sheet metal pieces.
When the workpiece is larger or heavier than what is feasible for an operator to manage on his own, Cidan comes to the rescue with machines that allow the workpiece to rest almost entirely on the machine's bed during forming. This means less maneuvering and lifting by the operator, faster forming of large, complicated pieces, and more efficient operation.
Benefits of Cidan folding machines include:
Unique back gauge that allows the weight of the material to rest while forming
Safety sensor eliminates risk of collision with operator during folding
Fast setup and start-up time
Leaves no marking on polished, painted or sensitive material
Large parts can be processed by a single operator
Superior ergonomics
Blank inaccuracy is corrected on the first bend
One set of universal tooling for the life of the machine
Easy for non-skilled operators to program and operate by non-skilled operators
Contact us today to request a quote on a Cidan folding machine. We look forward to hearing from you!
Shears
Cidan is known as a leading manufacturer of unique machinery for lightweight sheet metal fabrication, and their line of shears is no exception. Their mission to invest in research and development results in machines that are flexible and simple to use.
For a variety of light sheet applications, Cidan shearing machines cut steel, aluminum and other materials with precision and accuracy. In addition to performing high quality cuts, Cidan machines were designed to allow for a high number of cuts per minute.
Best of all, Cidan machines have low maintenance and operational costs while being environmentally friendly and flexible to use in production. Their cutting lengths range from 1350 mm to 4050 mm and possess a cutting capacity of up to 4.5 mm.
Options available for Cidan shears include:
Sheet supports
Pneumatic hold down beam
Safety guards
Adjustable squaring arm
Table extensions
For a quote on a Cidan shear, contact us today. We look forward to helping you specify the best machine for your facility.