ALLtra Plasma Cutting Machines for Sale
Plasma Burning Table Solutions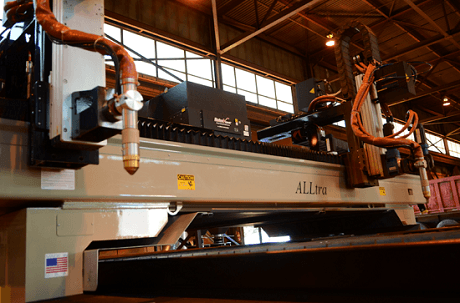 Southern States is honored to be an ALLtra plasma cutting solutions distributor. ALLtra cutting and welding systems deliver innovative features coupled with the latest technologies for plasma, oxyfuel, oxy acetylene or automated welding applications.  Southern States and ALLtra provide you the security of knowing you have made the right choice for your cutting or welding needs, with our team of dedicated and passionate employees standing with you.
ALLtra Machines CNC Capabilities:
Precision shape cutting in heavy plate of virtually any width or length and up to 12" thickness requires a comprehensive system approach and multi-process expertise. Delivering sophisticated technology with simple, user-friendly system control, ALLtra designs plate cutting systems to incorporate both the most advanced plasma and oxyfuel cutting features for quality, hole cutting, and cycle time efficiencies. 
Thin sheet cutting presents unique challenges for thermal and non-thermal cutting applications. Utilizing the most advanced plasma technology with seamless integration to ALLtra machine and process control delivers high-quality results with minimal maintenance from the most robust and reliable systems in the marketplace. 
Edge beveling and weld preparation are critical components in most manufacturing environments. While some machine integrators and manufacturers consider beveling a special feature that requires a team of engineers to support, ALLtra plasma and oxy fuel beveling machines are a focus of our core competency. ALLtra Intelligent Design has developed beveling systems produce highest quality single and combination edge bevels while minimizing the complexity and maintenance of these features. 
Cutting rectangular tubing with end copes or square cuts is the simplest of tasks on the ALLtra Tube Cutting machines. ALLtra precision and quality outcomes are most notable when requirements for 'through-hole' processing or complex geometries exceed the capabilities of other tube cutters. If high quality and precision for a wide range of cutting scenarios is a requirement for your tube processing, ALLtra has solutions that deliver.
ALLtra offers a variety of solutions to meet every need when it comes to high-quality pipe processing equipment for profiling complex beveled edges, saddles, and general cut to length pipe. Our machines can process both ferrous and non-ferrous material profiles and various other thick-walled materials. 
For a quote on an ALLtra system for your business, contact us today. We look forward to helping you determine the best machine for your unique process!
ALLtra Cutting Systems | Promo Highlight Video