ERCOLINA Machinery Distributor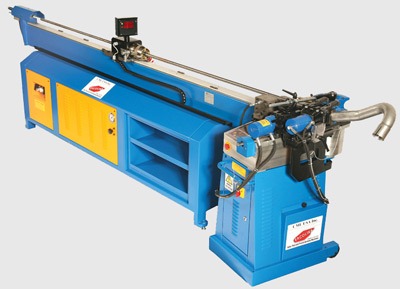 Tube Bending, Angle Rolls & CNC Mandrel Bending
ERCOLINA offers a range of precision machinery for bending tube stock and Southern States Machinery is proud to be an ERCOLINA machinery distributor. From simple tube benders to complex CNC mandrel benders, ERCOLINA is known for high-quality fabrication equipment that delivers precision bends each and every time. Read on to learn more about their various product lines, and contact us today to ask a question or request a quote.
SuperBender & TopBender
These simple tube and pipe bending machines process 1-1/4″ to 6″ pipe. And with one-touch control as well as the ability to store multiple bends and programs, SuperBender and TopBender machines are a favorite of fabricators worldwide. We are an ERCOLINA pipe bender distributor and can help you find the machine that's best for you. Request a quote or ask a question today!
Angle Rolls
If your shop bends large radiuses, create spirals, or rolls pipe into a ring, ERCOLINA's pyramid roller is the right machine for you. Supporting a multitude of small to large diameter tube and pipe sizes as well as extruded profiles, this bending machine is programmable and can be set up to bend in both horizontal and vertical positions. Southern States Machinery is an ERCOLINA angle roll dealer. 
Mandrel Bending Machines
We are a proud ERCOLINA cnc mandrel bender distributor. This line of NC semi-automatic mandrel bending machines is an investment in your business that will provide years of high-quality profile and pipe bending. Innovative bending head design and highly-accurate NC control give these machines the ability to eliminate welds, elbows, and seams with quality bends.
Even better, ERCOLINA's CNC mandrel benders represent the state of the art in pipe and tubing benders. These machines feature sturdy steel construction and precise computer controls that create quality bends every time, even when your bending application requires complex or tight-radius bends.
If you're interested in learning more about tube bending machines from ERCOLINA, contact us today.
VIDEO: Tube Bending