Checkout Our Recent Charlottesville, VA TRUMPF TruLaser 2030 Fiber Laser Cutting System Install
It's a new year and for one Charlottesville job shop that meant adding new capabilities to their fabrication services. Our team recently delivered and installed this state of the art Trumpf Model 2030 Fiber Laser Cutting System and we can't wait to see how it impacts sales and productivity for this mid-size fabrication business.
As a leader in laser cutting system sales in Virginia, our team is happy to help you find the right equipment for any of your unique design or manufacturing needs. Simply contact us today to get started and keep reading to learn about the benefits of a Trumpf fiber laser system.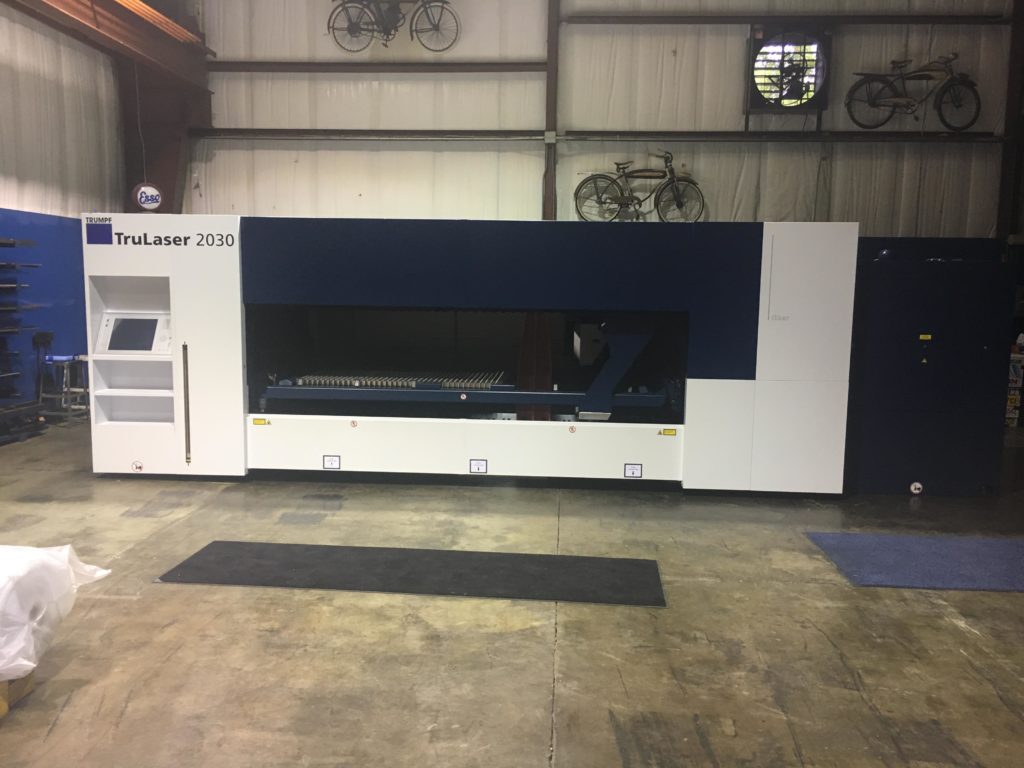 Perfect parts don't happen by accident. They demand that every process performed when making them is carried out to exact specifications and laser cutting is no exception. At Southern States Machinery, we're a leader in VA laser cutting system sales because we carry only the best equipment from Trumpf for creating precision parts that satisfy your customers' needs.
Trumpf fiber lasers have the flexibility to be used in a variety of applications, allowing for short processing times with high quality results. Precision and a high level of automation go hand in hand with Trumpf systems.
The TruLaser 2030 brings together high performance for the smallest space. It's easy to operate and install was quick at this Virginia fabrication facility. For a business looking to expand, this machine provides opportunity for growth, without requiring additional warehouse space. Some additional benefits include:
Powerful & Fast
You get high cutting productivity and long-term reliability with Trumpf's TruDisk laser.
Flexible Layout
If space is a concern, this machine is available in various installation versions depending on your requirements.
Less Down-Time
With an automatic nozzle changer, you can increase speed and process reliability.
Easy to Operate
With a smart control panel that offers touch control and optimal view of the entire work space, this laser cutting system is preferred by operators.
Flexible Sheet Thickness
With Trumpf's BrightLine fiber, your team benefits from the advantages of a solid state laser for all sheet thicknesses.
Want to learn more about our line of Trumpf Fiber Lasers? Contact us today to request a quote or speak to one of our team members. We're happy to help you find the right equipment to grow your business.